Why Choose Us?
We promise to:
Offer individualized, high-quality care

Provide a comfortable experience

Uphold our commitment to excellence
---
Your Individualized Care
Our commitment to your care is simple: we want to help you find a path to health and wellness for life. We will serve you and your needs with empathy, respect and no judgment. Your time, your concerns and your confidence in our service are what we value most, and we take pride in building our practice one person at a time.
Your Comfort
Part of providing great care is providing a great experience. We know, and completely understand, that for many patients, going to the dentist can cause negative feelings or fear. You will be given the education and information you desire to fully understand the care we provide, and you will have access to anxiety-reducing tools and techniques during your treatment.
Our Commitment to Excellence
We believe that we are never done learning and improving. Our team consistently pursues excellence through continuing education opportunities, personal and team growth, and leading-edge technology and practices.
What Does All This Mean to You?
At our core, our team believes that we can serve our community by providing great service to every patient who comes to us. Your dental health is where we begin, but we hope our impact on you goes much further.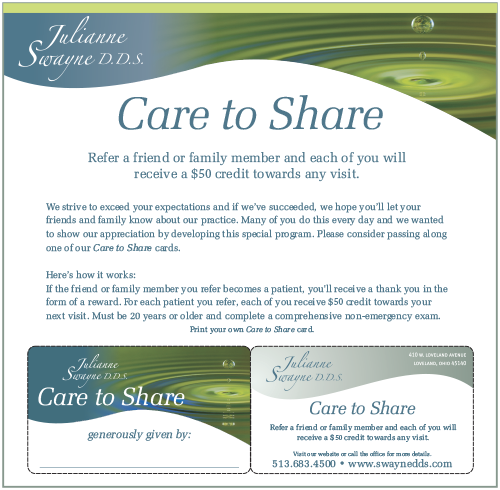 Trust is Earned: Reviews and Referrals
Our patients' confidence in our care inspires us to continue our dedication to excellence. We are honored to be rated one of the best practices in the city with a near perfect "10" rating. Please visit http://Cincinnati.md to read reviews and patient feedback, or read more here.
Over the years, our patients have given us the compliment of referring family and friends to our office. Learn about our Care to Share Referral Program.