COVID-19 Safety
We are open for all dental procedures! Our new normal, designed to continue to protect you and your team, is outlined below. While many things have changed, one thing remained the same: our commitment to you and your safety.
Please know that:
You have been missed and we are ever so grateful for your return!
Our office has always exceeded the guidelines for infection control, and we will continue that for COVID-19 and beyond.
These are Pre-Appointment Screening Questions. Please inform us if there are positive responses to any of these questions:


Do you have fever or have you felt feverish in the past 3 weeks?
Are you having shortness of breath or difficulties breathing?
Do you have a cough?
Do you have any flu-like symptoms, such as gastrointestinal upset, headache or fatigue?
Have you experienced recent loss of taste or smell?
Are you in contact with any confirmed COVID-19 positive patients?
Do you have heart, lung or kidney disease, diabetes or any auto-immune disorders?
Have you traveled in the past 3 weeks to any COVID-19 hotspot?

It is important to come to your appointment alone (except when necessary for guardians of minors, or others needing assistance).
We are implementing Curbside Check-In from your car. When you arrive, simply call us at 513-683-4500 so that we can help you avoid using the reception room.
We are following the Governor's guidelines concerning face masks. All patients are encouraged to wear a face covering or mask, and one can be provided if needed. Hand sanitizer for use is also available throughout the office,
Your health is our biggest concern. Those with high risk factors can visit us during our early morning appointments.
  
Above all else, know that we are so excited about your return to our practice. Although we will not be able to hug, your presence is the best hug ever.
Yours in Health,
Dr. Julie and the entire Team- Kim, Angie, Joan, Jeneane, Anna & Shae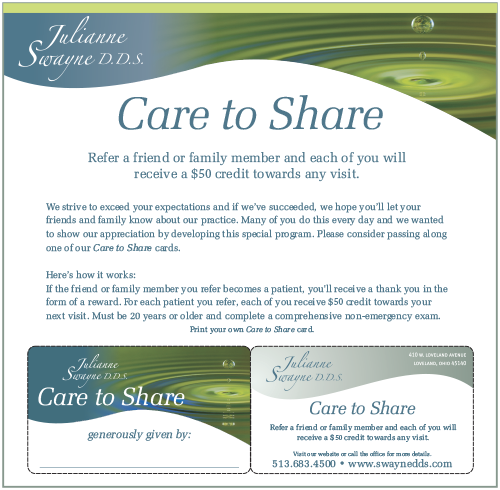 Trust is Earned: Reviews and Referrals
Our patients' confidence in our care inspires us to continue our dedication to excellence. We are honored to be rated one of the best practices in the city with a near perfect "10" rating. Please visit http://Cincinnati.md to read reviews and patient feedback, or read more here.
Over the years, our patients have given us the compliment of referring family and friends to our office. Learn about our Care to Share Referral Program.